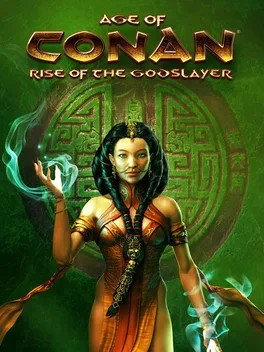 Age of Conan: Rise of the Godslayer
Age of Conan: Rise of the Godslayer is the first expansion for Age of Conan, released on May 11, 2010. It includes many new features and a substantial expansion of the game's content. The expansion adds the mysterious eastern lands of Khitai to the game, a new zone for characters of levels 20-40 and four new high-level zones for level 80 characters, as well as new original music by Knut Avenstroup Haugen to convey the Asiatic atmosphere of the expansion regions. A list of features of the expansion can be found below.
+ More
- Less
Storyline: Age of Conan: Rise of the Godslayer, will deliver a wealth of new content and features for players across several level ranges, all set in the fading eastern empire of Khitai - a mysterious and fabled setting within the world of Hyboria. Embark on the most savage, sexy and brutal Conan adventure yet as you descend into the shadows that have fallen over Khitai, the fabled empire of the east! Ride across the grassy steppes and see the purple pagodas of Paikang rising from the vine-choked bamboo jungles. Unravel the corruption that threatens to taint the very heart of this beautiful land forever! A wealth of new content for high-level players! Explore vast overland regions such as the serene Chosain Province or the desert of black sand known as Kara Korum, and delve into numerous new dungeons such as the magnificent Pillars of Heaven. Battle all-new monsters and acquire countless new rewards such as fantastic weapons and armor sets! Engage yourself in a mature and deep storyline that brings dramatic storytelling techniques into high-level gameplay. Through hundreds of new, lovingly crafted quests you will follow in the footsteps of Conan himself, where you will discover that the actions of the great barbarian have caused a great upheaval in this far flung land. The truth behind King Conan's actions are twisted and hidden amongst the moral shades of grey of Kithan politics! Experience the true power of DirectX 10 graphics with enhanced visuals and new groundbreaking graphical features that brings the land of Khitai to life. The new visual style of the east will also provide a fresh, new look on Hyboria - the savage world of Conan!