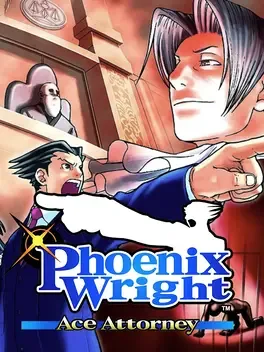 Phoenix Wright: Ace Attorney
Meet Phoenix Wright, the rookie defense lawyer new to the scene with the wildest cross-examination skills in town! Take on five intriguing cases to reveal dramatic, stunning, and even comical court proceedings. Use both the touch screen to investigate the crime scenes, question witnesses and present shocking evidence. "Objection!"...It's outrageous fun! You won't be able to put down this laugh-out-loud, riveting adventure!
+ More
- Less
Storyline: The first case of the game presents defense attorney Phoenix Wright at his first trial under Mia Fey's watchful eye, successfully defending his childhood friend Larry Butz for murder. However, in the game's second case, Mia is murdered for being aware of corporate blackmail, and her younger sister Maya Fey is charged with the crime because her name was found on a piece of evidence. While defending her, Phoenix is reintroduced to another childhood friend, Miles Edgeworth, who is the prosecutor for Maya's case and has established himself as a "genius" for the prosecution system. Maya is found not guilty of the crime, and becomes Phoenix's assistant in further cases, offering her channeling ability as a "Spirit Medium" of Kurain village to bring the spirit of Mia to help at critical times. Phoenix and Edgeworth find that while they have their friendship from their youth, they continue to face off against each other in the courtroom. In the third case, Phoenix and Maya investigate the murder of a famous actor.In the fourth case, Edgeworth is charged with murder, and Phoenix steps up to defend him. It is discovered that Edgeworth was set up by his old mentor, Manfred von Karma. Several years earlier, Manfred shot and killed Edgeworth's father, a defense attorney, after he ruined Manfred's perfect record, but led Edgeworth to believe he shot his own father. Phoenix is able to expose Manfred's cover-up and achieve a "not guilty" verdict for Edgeworth. After the case, Edgeworth thinks about taking time off from his position to consider the events, while Maya announces she is going back to her home in Kurain Village to train. The fifth case, added for the Nintendo DS, iOS, and Wii versions, has Ema Skye begging Wright for help to defend her older sister Lana, who is on trial for murder, compounded by a second murder of the same apparent victim in a different building at the same time. Using Ema's scientific help to establish evidence and the surprising prosecution help of Edgeworth during the trial, Phoenix is able to learn that Lana Skye was blackmailed by the Chief of Police Damon Gant into covering for a murder she thought that Ema had committed several years before. Gant himself is revealed to have committed the murder and pinned the blame on Ema. Though Lana is cleared of murder charges, she willingly goes to jail for being an accomplice; Ema says her goodbyes as she heads to Europe to study forensic science.