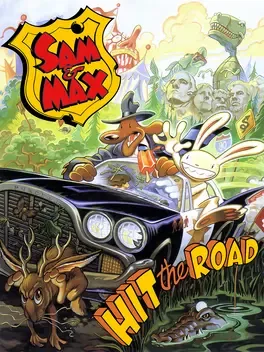 Sam & Max Hit the Road
Sam & Max Hit the Road is a graphic adventure video game released by LucasArts during the company's adventure games era. The game was originally released for MS-DOS in 1993 and for Mac OS in 1995. A 2002 re-release included compatibility with Windows. The game is based on the comic characters of Sam and Max, the "Freelance Police", an anthropomorphic dog and "hyperkinetic rabbity thing". The characters, created by Steve Purcell, originally debuted in a 1987 comic book series. Based on the 1989 Sam & Max comic On the Road, the duo take the case of a missing bigfoot from a nearby carnival, traveling to many Americana tourist sites to solve the mystery.
+ More
- Less
Storyline: Sam and Max, the Freelance Police, are two comic book characters created by Steve Purcell, who act as private detectives and vigilantes. Sam & Max Hit the Road follows the pair on a case that takes them from their office in New York City across the United States. The game starts in a similar way to many of the comic stories, with Sam and Max receiving a telephone call from an unseen and unheard Commissioner, who tells them to go to a nearby carnival.[7] At the carnival, they are told by the owners that their star attraction, a frozen bigfoot called Bruno, has been set free and fled taking their second attraction, Trixie the Giraffe-Necked Girl.[8] Sam and Max set off to find Bruno and Trixie and bring them back. As the duo investigate the carnival, they learn that Bruno and Trixie are in love and that Trixie freed Bruno. The Freelance Police leave the carnival to pursue leads at various tourist traps throughout the country, such as The World's Largest Ball of Twine, a vortex controlled by giant subterranean magnets and bungee jumping facilities at Mount Rushmore.