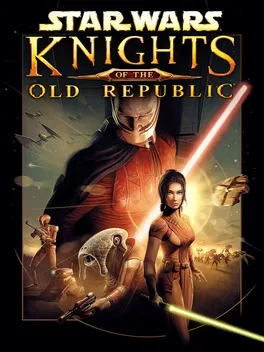 Star Wars: Knights of the Old Republic
Choose Your Path! Set 4,000 years before the Galactic Empire, you are the last hope for the Jedi Order and the Republic - can you master the ways of the Force to become their savior? Or will you fall to the dark side and achieve ultimate power? Hero, villain, peacekeeper, or chaos-bringer... you and your party will determine the fate of the galaxy! Star Wars: Knights of the Old Republic is a role-playing video game developed by BioWare and published by LucasArts, being originally released for Windows PCs and Microsoft's Xbox console in 2003. It's based on Wizard of the Coast's Star Wars Roleplaying Game, meaning that the game uses the d20 System. Players will be able to create their own characters and be able to choose what gender, appearance, class, skills, attributes, and feats they have throughout the game - no two characters will be the same! This is a part of Star Wars Legends, and as such is not treated as Canon.
+ More
- Less
Storyline: It is four thousand years before the Galactic Empire and hundreds of Jedi Knights have fallen in battle against the ruthless Sith. You are the last hope of the Jedi Order. Can you master the awesome power of the Force on your quest to save the Republic? Or will you fall to the lure of the dark side? Hero or villain, savior or conqueror... you alone will determine the destiny of the entire galaxy! Former Jedi Darth Malak, a Dark Lord of the Sith and Darth Revan's former apprentice, has unleashed a Sith armada against the Republic. Malak's aggression has left the Jedi scattered and vulnerable; many Jedi Knights have fallen in battle and others have sworn allegiance to Malak. The game opens with the player's character—the player can choose a face and be male or female (canonically a male)—awakening aboard the Republic ship, Endar Spire, which is under attack by Malak's forces. The player's character gradually gathers companions and pieces together their past while attempting to stop Malak. The game is a part of the Star Wars Legends Universe.