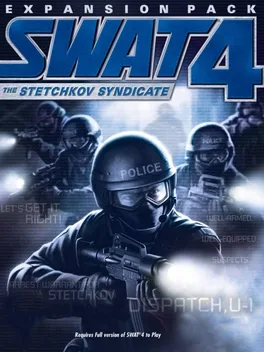 SWAT 4: The Stetchkov Syndicate
The Stetchkov Syndicate expansion adds seven new single player missions revolving around the Stetchkov family, an Eastern European crime syndicate and new multiplayer content, amongst other features. In addition to the seven new maps, The Stetchkov Syndicate also adds a variety of single player and multiplayer features. This includes new weaponry and equipment, the ability to punch uncooperative characters, and a command which allows the element to clear a room from two different entryways simultaneously. New multiplayer content includes a capture the flag style game mode, VoIP capability and 10 player cooperative games, amongst other content.
+ More
- Less
Storyline: In The Stetchkov Syndicate, players resume their role as the element leader in the Fairview SWAT team, which this time must contend with the titular crime syndicate, which smuggles illegal drugs and weapons into the city. The first mission sees the SWAT team responding to a shootout in progress at a video arcade in a rundown neighborhood, where the team learns that the city's drug dealers have some fearsome new competition. Not long after, the team deals with a gang of failed robbers who have barricaded themselves inside a halfway house. The plot thickens when it becomes apparent that someone is suppling assault weapons and explosives to a number of buyers, including a Christian fundamentalist cult and a group of irate farmers. As such, the Fairview SWAT team targets the Stetchkov clan directly, first in a raid on drug lab run by the Stechkovs at an abandoned house. Things soon become more complicated when the Stechkov syndicate and another gang wage war with each other at a subway station, where many civilians are caught in the crossfire. After SWAT restores order, they must serve a search warrant at a warehouse owned by a Stetchkov front company, where SWAT apprehends the clan's leadership, ending their reign of terror.