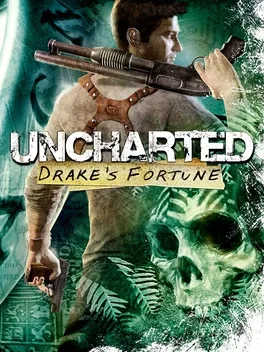 Uncharted: Drake's Fortune
A 400-year-old clue in the coffin of Sir Francis Drake sets a modern-day fortune hunter on an exploration for the fabled treasure of El Dorado, leading to the discovery of a forgotten island in the middle of the Pacific Ocean. The search turns deadly when Nathan Drake becomes stranded on the island and hunted by mercenaries. Outnumbered and outgunned, Drake and his companions must fight to survive as they begin to unravel the terrible secrets hidden on the Island.
+ More
- Less
Storyline: Treasure hunter Nathan "Nate" Drake (Nolan North), accompanied by reporter Elena Fisher (Emily Rose), recovers the coffin of his self-proclaimed ancestor Sir Francis Drake, having located it from coordinates inscribed on a family heirloom: a ring Nate wears around his neck. The coffin contains Sir Francis Drake's diary, which gives the location of El Dorado. Pirates attack and destroy Nate's boat, but Nate's friend and mentor Victor "Sully" Sullivan (Richard McGonagle) rescues the two in his seaplane. Fearing Elena's reporting will attract potential rivals, Nate and Sully abandon her at a dock. Following the diary to the indicated spot, Nate and Sully discover an alcove that once held a large statue, and realize that El Dorado is not a city but rather a golden idol. They find a Nazi U-boat, which contains a page from Drake's diary showing the statue was taken to an island. However, mercenaries led by criminal Gabriel Roman (Simon Templeman) and his lieutenant Atoq Navarro (Robin Atkin Downes) intercept Nate and Sully. Sully is seemingly killed by a shot to the chest, but Nate manages to escape, encounters Elena, and flies with her to the island. On the way, anti-aircraft fire forces Elena and Nate to bail out and they are separated. After retrieving supplies from the wrecked seaplane, Nate heads toward an old fort to find Elena. Briefly captured by pirates led by old associate Eddy Raja (James Sie), Elena breaks Nate free and they flee to the island's old customs house. After finding records showing the statue was moved further inland, they find that Sully is alive and accompanying Roman and Raja. Nate and Elena find and rescue Sully who, having survived due to Drake's diary blocking the bullet, explains he was buying time for Nate by giving Roman misinformation.